Ei Dynamics
is a midmarket business intelligence monitoring and alerting solution. With
Ei Dynamics
software businesses can completely automate their reporting, monitor and analyze their data, receive business alerts and quickly and easily setup workflow and business automation routines to reduce costs and save time.
Ei Dynamics'
is broken down into three main product offerings as follows...
Dynamic Alerts®
is a business monitoring and alerting system designed to intelligently monitor data across an entire enterprise regardless of database or system. Dynamic Alerts® constantly monitors data based on straightforward user defined business rules and sends out notifications via email or text message whenever a rule is triggered. With Dynamic Alerts® you don't have to worry about missing a deadline or having any unexpected surprises anymore.
Dynamic Reports®
is a report automation solution that incorporates Dynamic Alerts to allow companies to intelligently schedule, generate and distribute common enterprise reports. Dynamic Reports® powerful reporting engine dynamically generates standard industry reports such as Crystal reports and SQL Reporting Services reports, RTF documents and any webpage or web based report. Additionally, Dynamic Reports® powerful query engine provides the flexibility to analyze almost any data and take action based on user defined criteria. The fact that Dynamic Reports® uses ODBC and OLEDB to communicate with data makes it useful to almost every company and virtually every data driven system.
Dynamic BPM® (Business Process Management & Automation)
: is a process automation solution that brings everything together into one comprehensive suite of intelligent software. With Dynamic BPM, not only can you read data and take action such as generating a report or sending an alert, but you can also affect the underlying data by writing back to a database or triggering some other type of event or action. With Dynamic BPM, we can create workflows and dependent processes to automate tasks otherwise done manually. With Dynamic BPM, you can easily launch SQL Queries, launch .exe applications; post to webpage's or run custom .NET code using the VB.NET or C# runtime language.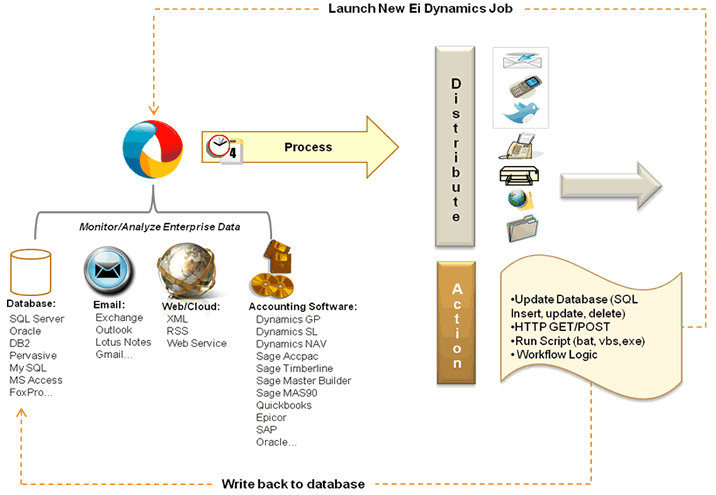 How your company could use Ei Dynamics: Quick Samples
Ei Dynamic
is a versatile product that can be used by almost every company and every department. Understanding some common practical examples of how the system could be applied to most companies will help you imagine how this product could transform your organization...

Accounting:


Email invoices to customers rather than send them via mail.
Automatically notify customers who have an aged accounts receivable balance over 60 days
Generate an executive reporting package every Monday whereby each executive receives 3 separate attachments via email. A/R Aging, A/P Aging and a financial summary
Notify the CFO daily if a GL account such as accounts payable dips below or rises above a certain dollar amount.




Operations:



Send out individualized job cost recap reports weekly to each project manager with only their job information.
Send out an automated insurance detail report to the compliance manager and the vendor 60 days before a vendor's insurance is about to expire.
Notify warehouse manager if any inventory levels fall below or rise above certain thresholds




Sales/Marketing:



Send out a company newsletter or general notices to customers.
Notify customers of new products or services based on a customer profile.
Send a company welcome greeting to any new customers added into the customer database.
Send out an automatic email to any customer who has not bought or paid for anything in 90 days and offer them something new.





Human Resources:



Send out employee wide notices such as the annual paid-time off schedule.
Automatically notify employees if their accrued sick time gets too high or too low.
Automatically, send each divisional manager a summary of only their direct employees' hours for the week/month/year.
Send out a birthday greeting from the company to each employee on their birthday.