Dynamic BPM® Enterprise: is a business process management (BPM) solution focused on end to end automation of workflow processes. With Dynamic BPM, we can align all aspects of an organization, with the wants and needs of our clients. Dynamic BPM® promotes business effectiveness and efficiency while striving for innovation, flexibility, and integration with technology.

Dynamic BPM® incorporates all aspects of the Ei Dynamics solution from monitoring of data, to sending of business alerts, to the generation and sending of reports, to the dynamic capture of data utilizing web forms, to the full integration of data between different databases and datasources. Dynamic BPM® empowers companies to automate the most challenging of business processes and provides a robust set of tools to allow companies to accomplish tasks the way they want and not have to conform to the limitations of the underlying technology driving the automation.


Web Forms
Quickly and easily build custom mobile web forms.
Display Data - web forms can be used to display data to select individuals inside or outside the organization without having to give them full access to your back office systems.
Collect Information - web forms can be used to collect information and as a substitute for submitting information on paper, which then has to typically be re-keyed into a system after the fact.
Approvals - web forms can be used to approve documents such as contracts and invoices. Approvals can be done electronically including capturing signatures on mobile devices.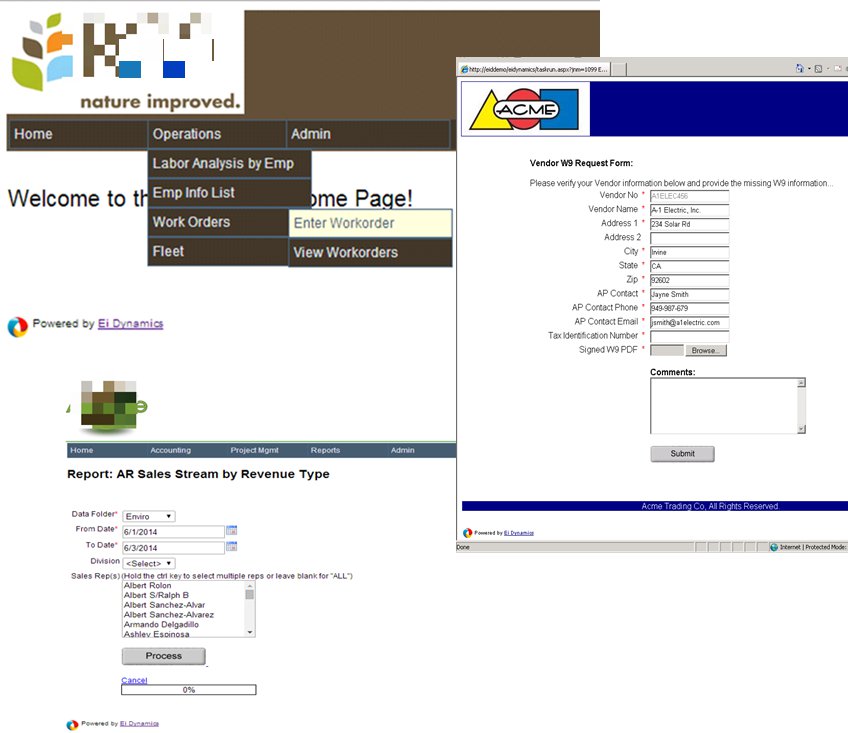 Key Features:
Mobile Compliant - HTML 5 Responsive web forms
Fully Customizable - logos, menus, color schemes, layout
Point and click form builder - no programming necessary
Custom Workflow
A key part to fully automating any business processes is being able to automate the complete life cycle of that business process. One challenge for many BPM solutions, is being able to handle those business processes that reside outside the confines of a company's network or computer system. For example, soliciting a response from a customer or seeking approval of a manager that is traveling abroad. Ei Dynamics Web Workflow offers a unique way to facilitate any process anywhere via a web browser, smart phone or internet connected device. Dynamic BPM's price point, scalability, cross platform support and unique robust feature set make it an attractive solution.

Key Features:
Trigger other Ei Dynamic Jobs based on defined rules and conditions
Execute external script files, run custom .NET code, launch external executables
Run action queries against any SQL database (update, insert, delete)
Post information to web (HTTP Post)