Sage 100 Contractor Connector for ServiceTrade

Product Overview
The Sage 100 Contractor Connector for ServiceTrade keeps your ServiceTrade and Sage data updated and synchronized while eliminating the need to manually update and maintain the same information in both systems.
Key Features
Browser based interface, no need for individual workstation installs or updates
Scheduling option allows for automatic syncing of data, including email notification of data changes
On demand sync option allows immediate syncing of data for time sensitive needs
Quick and easy install and setup
Customized data mapping options available to allow for unique customer requirements
ServiceTrade
Sage 100 Contractor
Users/Technicians

🡆

5-2-1 Employees
Company/Customer

🡆

🡄

3-6 Clients
Company-Locations

🡆

🡄

3-6 Client - Locations
Jobs

🡆

11-2 Work Order
Items

🡄

9-2 Parts
Time/Hours

🡆

5-5-2 Payroll Records/
5-5-1 Daily Payroll
Connector Interface
The user interface is simple and intuitive. The red buttons indicate that there is pending data to be synced for the respective data integration point. The alarm clock icon indicates that the data integration point is currently scheduled for automatic syncing. The plain gray buttons indicate that there is nothing pending to be synced.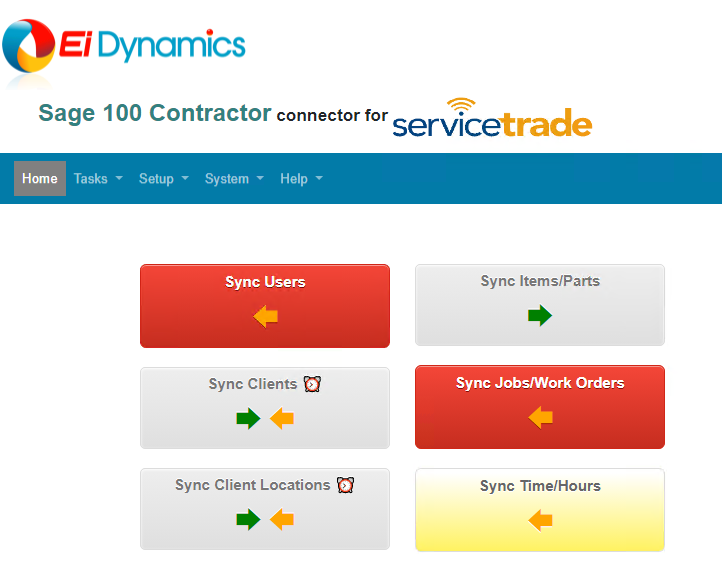 System Requirements
The connector is installed locally on the same server where Sage 100 Contractor is installed. The interface is browser based so there are no workstation installs or extra software required by the end users.
Sage 100 Contractor version 22.4.34 or higher (1)
Windows Server 2012 R2 or higher
Minimum of 16GB of RAM on the server
Minimum of 2 processors
SQL Server 2017 or higher (1)
IIS7 or greater
.NET 4.5.2
(1) Note: The supported version of Sage 100 Contractor may periodically change as new versions of Sage and the connector are released. Please confirm with sales or support what the required version of Sage is.
(1) Sage 100 Contractor ships with SQL Server Express 2014, if SQL Server Express 2014 is installed it will need to be upgraded to SQL Server Express 2017 or higher. As long as SQL Express is being used there is no additional charge to upgrade and the compatible version can be downloaded and installed for free from Microsoft. If a fully licensed SQL server is installed then there may be additional costs to upgrade the license to a newer version of SQL Server.
---